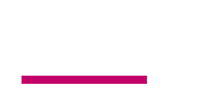 Digital transformation results in seven figure saving
Allsop Auctions is an independent property consultancy founded in 1906. As the UK's largest property auction house, Allsop holds 13 property auctions annually, alongside consultancy services for residential and commercial properties.
The team at Allsop approached us to support a digital transformation programme to help move the business forward. Made possible with technology, we optimized All sops' six-week auction cycle, delivering new systems and integration in order to streamline processes and improve efficiencies.
The auction process was inefficient, reliant on a number of legacy systems that were no longer fit for purpose. The lack of integration between systems and limited automation of tasks necessitated manual input, which was both time-consuming and costly.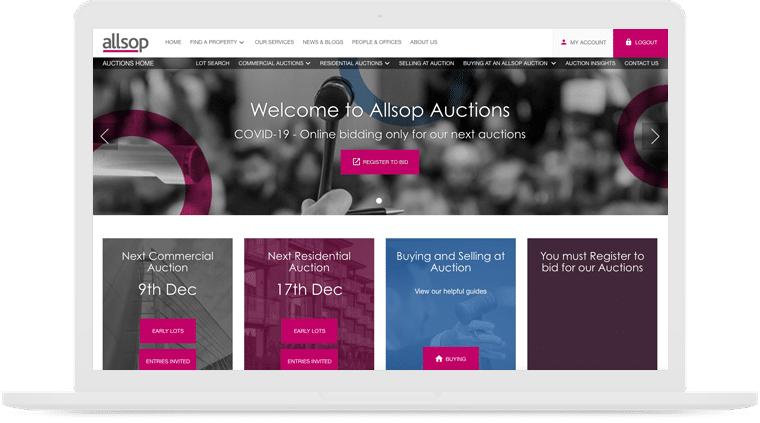 Business challenges
The online lot management system needed to cope with extreme peaks and troughs in usage, with peak load occurring on auction day.
The auction catalogue mobile app needed to work 100% offline, as auctions are held in various locations and internet access could be limited.
The catalogue production process needed to be automated as they were being created manually. This was time-consuming and costly, requiring support from an external marketing agency.
The process for uploading property lots to the website and third-party property feeds also needed to be automated. This was being done manually which was causing delays of 3-5 days.
The solution
We worked closely with the team at Allsop to understand the challenges the business was facing and the outcomes they wanted to deliver. From this, we defined a digital strategy to support the desired transformation needed for the business to adapt to change, thrive and grow.
The bespoke software solution we developed enabled us to deliver a single web-based auction management system to streamline inefficient processes and speed up the auction itself. This was supported by a bespoke mobile application to host the online property catalogue, a solicitor portal for legal document management and a client portal to provide actionable feedback.
Rigorous testing was carried out by our expert, in-house test team to ensure the smooth operation and reliability of the system. We continue to extend Allsop's team with ours, by having one of our highly skilled team readily available to offer their support during key calendar events, such as catalogue launch weekends and auction days.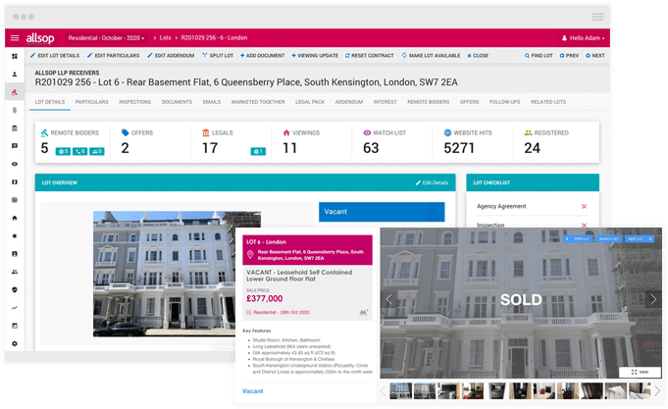 Developed using a single code base, enabling four separate legacy systems to be merged into one, key features of the new system include:
A lot of management system that allows the auctioneer to view statistics in real-time on a single screen, including current bid, lot interest, guide price, offers, viewings, reserve and lot status.
A mobile app that allows users to search, filter and view the images and details on upcoming lots, view the details of past auction sales and select lots of interest to create a personal watchlist. Real-time push updates ensure users are able to experience the auction room wherever they are in the world.
Solicitor portal for legal document management and a client portal to provide actionable feedback.
Automated online catalogue production that merges a lot of information from a database into a PDF template.
Catalogue launch function to simultaneously post lots to the website, app and third-party property feeds including Right Move and Zoopla.
Flexible, scalable infrastructure, built on Amazon Web Services (AWS), to ensure the system could take the pressure of 5,000 users receiving bidding updates in real-time on auction days.
"Propel has been our trusted partner through a challenging, disruptive, all-encompassing and ultimately successful project. They were involved with our full process, including scoping, design, development, testing, launch and support. Bringing the added partner resource to our internal team meant that we, the IT function, can provide a service to the business which ultimately benefits our auction clients."
Alex Pugh, Head of Business Systems, Allsop
Business outcomes
Increased efficiency: The new system gave Allsop the ability to run fully virtual auctions, whilst the optimised auction cycle replaced time-intensive processes with automated solutions. Streamlined catalogue production required less manual input, speeding up the process, and website, third-party property feeds and legal pack updates were able to happen in real-time rather than taking days.
Cost savings: Catalogue printing costs were reduced by 6 figures per year. Eliminating the need for an external marketing team reduced costs even further. There were additional operational savings realised by the merging of four legacy systems into one application built on a single code base. The investment in the project itself was optimised by using NativeScript; we only needed to build the mobile app once for both Android and IOS.
Improved user experience: The additional functionality built into the integrated lot management system, mobile app, solicitor and client portals delivered an efficient, reliable experience for all users.
Start making tech possible