For almost two decades we have been delivering as a respected bespoke software development company, with a proven track record of efficiently delivering tailored solutions to businesses across numerous sectors. Our expertise spans new and existing web and mobile applications, platforms, and cutting-edge products.
The Propel Tech approach to custom software is open, honest and grounded in a detailed understanding of our clients' businesses, unique drivers, and specific requirements. This in-depth knowledge empowers us to craft bespoke software solutions that not only streamline existing processes but also optimise operational efficiency. Doing so, we help organisations develop and use software to gain a competitive edge, driving profitability and sustained success in their industries.
Let's talk tech
We're eager to hear about your bespoke software development project goals and turn them into reality. Get a free consultation to make tech possible.
Get in touch
Here to propel your business forward
We collaborate with a diverse array of industries, joining forces with businesses to facilitate their growth through our software development services.
Bespoke software development services
Our team of bespoke software developers can design, build and launch bespoke web applications, platforms and products all to the exact specifications and all with the power to help your business thrive and grow.
Our team of expert app developers can create bespoke cross platform mobile apps that are user-friendly and designed with the flexibility to scale, develop and adapt in-line with your business needs.
We provide integration services to connect applications for seamless communication between all areas of your management system in order to improve efficiency and productivity.
Advantages of bespoke software
There is a wide range of reasons why organisations opt for a bespoke approach:
User expectations
Bespoke software services can help a business keep up with evolving user needs and expectations to provide better customer experiences with technology.
Functionality
We develop bespoke software solutions to replace existing systems that are no longer fit for purpose with more efficient solutions that meet current and future needs.
Dependability
Investing in bespoke software development services can replace unreliable systems that negatively impact productivity and cost businesses time and money.
Complexity
We can reduce complexity and streamline processes with bespoke software to ensure software applications integrate and work together effectively.
Capability
As business requires change, new bespoke software solutions are needed to evolve technical capabilities in order to efficiently scale and grow, whilst retaining a competitive edge.
Our approach to bespoke software development projects
We are experts in bespoke software development, offering comprehensive support throughout your project's lifecycle. Whether you require assistance strategising your bespoke software system or the technical expertise to build and deliver it, we have the resources to support you. Our end-to-end bespoke software development process lets us meticulously plan and design the ideal system tailored to your unique business needs. From project inception to successful delivery, we work flexibly to your requirements and where required we manage every aspect, ensuring a seamless experience and resource where you need it. Post-launch, we ensure your technology continues to deliver by extending your team and providing dedicated maintenance to keep your applications performing optimally.
We provide software consultancy services to define objectives, gather requirements, and scope your project to produce functional and technical specifications. We can design and build a prototype and proof of concept for your new software. Likewise, we are equally happy to develop bespoke solutions to your pre-defined brief and requirements. No matter how you decide to use our services, we will provide the software development solutions your business needs to operate effectively.
Agile software development
Agile software development ensures that your project is delivered on time, on budget, with a swift return on investment. It sees us taking a flexible approach that delivers results faster by having the ability to continually move forward by dealing with change as it happens. This approach to planning and improvement includes constant work and status updates with agreed milestones set along the way so everyone knows where a project is and it maintains momentum. This is backed by the ability to respond without delay if some part of it needs changing, for example, certain features don't achieve the desired outcome.
How we work
We have our own unique way of working. Our clients like it, and we hope you do too:
Flexible
A certain way of working might work for one business, but not another. We fit around your processes and take an approach that allows us to become an extension of your existing team, working alongside you to get the best results.
Transparent
We work in open collaboration, which means there are no hidden costs and timings are clear from start to successful finish.
Human
We're techies, we're also a friendly down-to-earth bunch who understand the benefit of working face-to-face. This is why none of our team are hidden behind closed doors.
Highly experienced
We're proud to have a strong track record as a bespoke software development company, having worked with a diverse range of different clients across an equally impressive range of sectors.
Delivering the right business outcomes
Whether you're looking for end to end bespoke software development services or technical implementation against a predefined scope of work, our developers will deliver software systems that help achieve your business goals:
Whitepaper
What now and what next for technology driven business? A guide to supercharge your technology proposition, create more value and move your business forward.
Find out more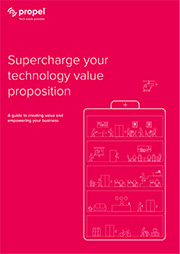 Featured Case Study
A new and improved customer service portal
A scalable B-2-B focused web-based portal
Improved customer experience and customer management
Improved efficiency and reporting by automating services
Reallocation of valuable resources to be used elsewhere
Greater control and transparency end-2-end
Read case study
Other software development services
We provide a range of software development services to propel your business forward.
Your partners in possibilities
As experts across existing and new technologies, we don't simply solve software problems, we find solutions that help manage change so that your business thrives and grows.
We're eager to hear about your project goals and turn them into reality. Get a free consultation to make tech possible.
Brief us