Project rescue delivering mobile app in three months
McBurney Transport Group, one of Ireland's largest independently-run logistics operations, employs a highly focused customer strategy. But the market and customer needs are constantly changing, with advances in technology enabling the development of sophisticated mobile apps. Customers now expect proof of delivery (POD) within 24 hours, so the business needed a new logistics app to facilitate this in order to stay competitive.
We were approached to rescue the mobile app development project after a previous supplier failed to deliver. The app needed to:
Enable drivers to interact in real-time with the main office from remote locations
Reduce back office manual tasks
Provide regulatory compliance data capture
Deliver enhanced customer experience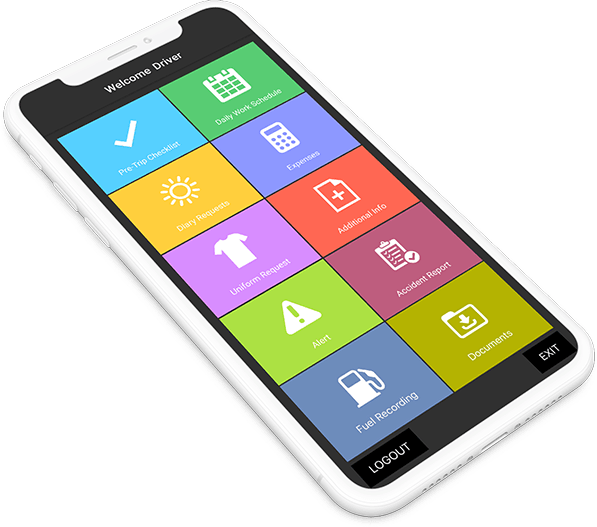 Solutions
Transportation and logistics mobile apps need to handle both fleet management and the delivery of goods. Our solution enabled the company to provide instant PODs, carry out vehicle checks, track vehicles and drivers in real-time and improve operational efficiency in other areas too.
POD (Proof of delivery)
Problem: Customers wanted more real-time information. They expected PODs back within 24 hours, but this wasn't possible when the drivers were away for 3 or 4 days at a time. The paperwork wasn't processed and sent to the client until the driver was back at the depot.
Solution: The new mobile app enables the digitalization of paperwork. Drivers can now take a photo of the POD the moment it happens and provide real-time, instant confirmation to the client.
Pre-trip check sheet
Problem: Part of the day-to-day running of the business requires pre-trip checks on delivery vehicles. Previously, drivers would write them down and had to do this every time they changed trailer.
Solution: Now minor problems can be detailed on the app by the driver, so management can make decisions about what to do with the vehicle if there is an issue.
Tracking vehicles and drivers
Problem: Desk-based trackers would have to phone drivers to check their location, estimated delivery time, and whether the job had been completed.
Solution: Track Phone is used to track the position of the driver's phone at all times while logged into the app. Trackers can now see the exact information they require on the screen, so can provide a superior level of customer service. The new system is also safer than calling drivers when they are on the road.
"McBurney approached us to rescue the project when a previous supplier failed to deliver a working app. We delivered a scalable cross-platform mobile app in under three months, improving efficiency and productivity whilst increasing cash flow for the business."
Andy Brown - Managing Director, Propel 
Additional functionality
Uniform requests: this allows the driver to order available uniform and clothing items.
Diary requests: allows the drivers to request and view their booked holidays, and to notify them of sick days.
Accident report: this allows the drivers to compile a detailed report in case of an accident.
Alerts: inform the drivers of any special conditions like weather warnings or global alerts.
A daily work schedule helps the drivers perform their collections and deliveries by providing them with relevant real-time information, recording their time and position, and allowing for the reporting of issues and the photographing of paperwork.
Expenses: this allows the drivers to make expense claims/requests directly from their mobile devices.
Business outcomes
Increased cash flow: As the POD is available in real-time there is no delay in invoicing the client and therefore the ROI makes this a cost-effective project.
Improved working processes: With basic back-end admin like diary requests, work schedules, and driver location now automated work processes are streamlined and more efficient.
Improved productivity: With automated systems, the staff is no longer waiting for paperwork in order to complete tasks resulting in improved staff productivity.
Scalability: With automated back-end services and increased customer service the potential for McBurney Transport Group has improved and the app will grow along with them.
Start making tech possible