According to recent ONS data, almost a third (30%) of businesses in manufacturing, wholesale and retail trade reported global supply chain disruption during the pandemic, and one in 20 UK businesses said that they had made changes to supply chains because of the end of the EU transition period.
Such substantial changes to the economy, supply chain and how we work have forced many businesses to adopt and adapt their digital organisation processes.
Technology change has facilitated a quick response to disruption, and you could say every business must be a digital business to thrive. Ensuring your business has the right digital blueprint often comes down to mindset; however, this mindset takes time and years of experience to develop.
How can your business ensure it is driving technologies in the right direction and that all of your team are more digital and data-driven? At Propel Tech, our team of experts has years of experience delivering technology solutions across bespoke builds and management of existing and new implementations. We like to say that they have a digital-first mindset "baked in" and that we understand the importance of supporting and establishing a digital mindset in the businesses we work with to support business growth and development.
What is a digital mindset?
Simply keeping up with the latest technology and having the skills to implement and manage software is not enough to keep you driving forward and growing as a business. Your business and employees' ways of working and thinking also need to change. Digital transformation offers new rules and opportunities, but change is hard and takes time to adapt.
Evidence suggests that businesses that absorb this mindset will win the race.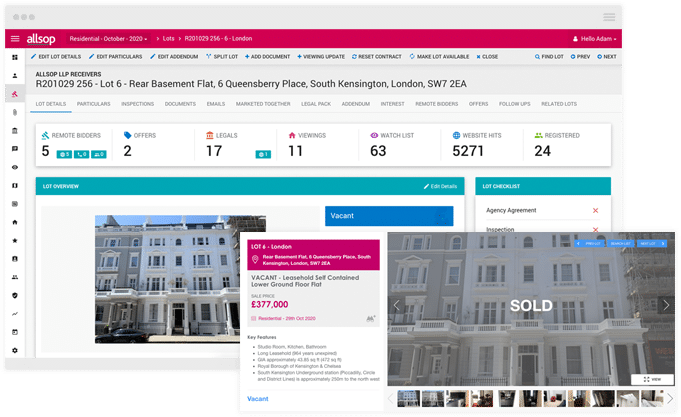 Working with UK's largest property auction house, Allsop, they understood technology could improve their client experience and solidify their position in the market. Although they were already the market leader, they wanted to strengthen the brand's market positioning in line with the pandemic and inflation. Thanks to their forward-thinking, they could quickly pivot their business and systems when face-to-face auctions could not happen during restrictions. You can find out more about Allsop's digital transformation here.
A digital mindset doesn't refer to digital skills such as software programming or cloud management services but the personality characteristics that lead to successful digital transformation. These traits structure how we think, feel and act when problem-solving and using technology, here are just some of the digital mindset qualities we look for in our team:
Adaptability
The digital landscape is ever-changing, so it's crucial to accept the new ways of working and adapt to the latest changes and ways of working.
Ambiguity
It's imperative to be open to more than one interpretation when working with digital technology; you must be open to ambiguity and make decisions through debate.
Curiosity
Curiosity is at the heart of progress; going above and beyond is vital to moving forward, allowing curiosity to be the tool that enables you to explore alternative avenues.
Collaboration
Having an open environment for team conversation and collaboration within the workplace is a way to bring in different experiences and methods of viewing a particular situation.
Diversification
Diversify your team and allow a digital mindset to go beyond your comfort zone; people who think alike are unlikely to provide innovation within a business.
Developing a deeper understanding of the digital mindset within Propel Tech
As a business, we focus on developing and supporting a digital mindset in our team of consultants, developers, project managers and technology experts. To support this, at least once a month, the team engage in virtual or face-to-face "brew sessions" to take a break for 30 minutes and get everyone together to talk about something that isn't project related.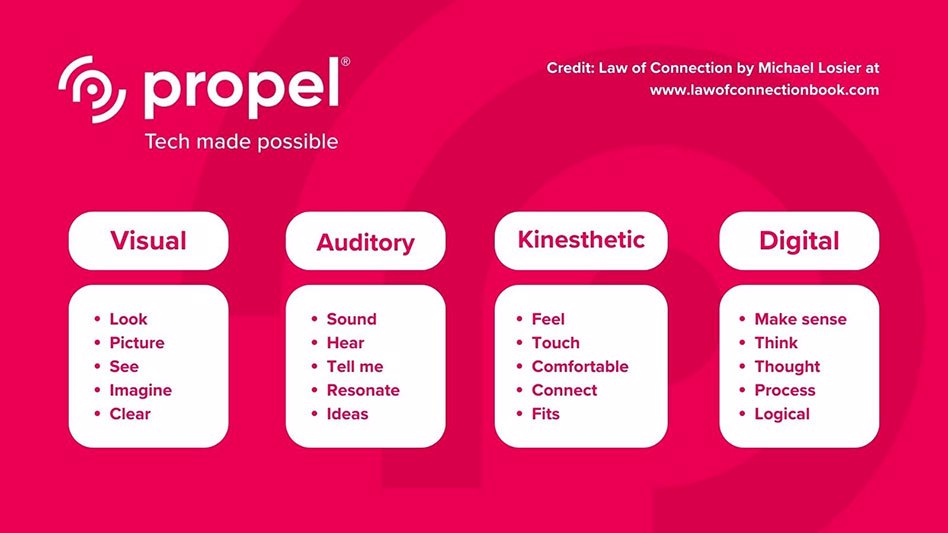 Our most recent "brew" focused on mindset and processing of information, and it included a quiz to determine which of the four information processing personality types the team fell into: visual, auditory, kinaesthetic or digital.
Interestingly, although probably not surprising, we found a range of processing types. However, most of the group fell into the digital processing category, which focuses on thought, understanding and logic - all skills critical for successful technology delivery.
The session also revealed that our group's digital mindset is also fuelled by other types of processing, with other team members falling into the visual and kinaesthetic processing types - this was more prevalent in our more creative team role and in project leaders.
The point of the session was to highlight that people have a preference for processing information; no individual is entirely one or another type, and we use all our senses to process information. However, it helps to understand our own processing preferences and that of our team. Understanding these differences can help improve internal collaboration, how we interact with clients, and how we each engage our digital mindset as a team.

Does your business have the mindset to reap the benefits of digital technology?
At Propel Tech, we apply a digital mindset to all projects we work on; we also understand that this is increasingly difficult to recruit internally and that it takes time to develop a team with the mindset, skills and tools to respond to the constant change in technology and business.
Propel Tech offers the option of a ready-made team extension that can instantly deliver a digitally driven perspective on the needs of a project and outstanding technical support. Our team has a strong digital mindset across a depth and breadth of technology; you can access a whole group of resources to support your business which will work in partnership.
With expert problem solvers across existing and new technology, we work collaboratively to identify problems, help map journeys, support with expertise, and make the right solutions a reality - this makes your projects easier to deliver. You have the assurance of expert technology thinkers and doers in your team that can support your existing team and your business's future goals.
From digital transformation and bespoke software development to system integration and cloud management services, we can support you and your team with digital requirements.
Make sure you follow us on Twitter and Linkedin for regular updates on industry insight, behind-the-scenes content and business news or contact us today for more information.
Let's make possibilities happen