We are proud to announce we will be actively supporting Wakefield Hospice, nominated as our Charity of the Year.
Who is Wakefield Hospice?
Wakefield Hospice opened in 1990 and was the idea of eight local nursing sisters who felt the area needed a place to provide end-of-life care to the local community.
Today the hospice is committed to providing the highest level of symptom management and care for people who have advanced active, progressive and life-threatening illnesses. This care is provided free of charge to patients who have been assessed as in need of specialist palliative care.
With increasing costs of over £4 million a year to run the organisation, Wakefield Hospice relies on fundraising initiatives and community donations to meet over £3 million of that total.
Find out more on the Wakefield Hospice website.
How will we be supporting the charity?
The hospice holds events throughout the year, and we plan to participate in several events, including the Wakefield 10k Road Race and 1k Mini Run, as well as organising our own fundraising initiatives like bake-offs, sweepstakes, raffles and more.
We have also implemented a donation drop-off point at the office, where employees can leave good quality clothing, homeware, toys and books, and we will arrange for this to be taken to the hospices warehouse, which stocks their shops across Wakefield.
Hear from our HR manager, Hannah Starkey, on the appointment: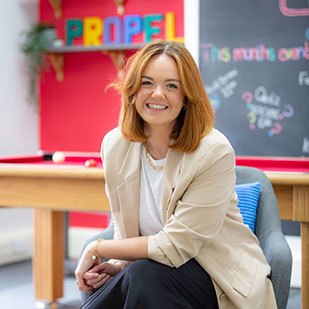 "The team has always undertaken fundraising and charity activity, but this year we wanted to go bigger and better. Following an internal survey, the whole business voted for their chosen charity to support throughout 2023 and Wakefield Hospice was selected, a local charity that means so much to many people.
"While our full schedule of fundraising events is yet to be finalised, we have already set up a donation drop-off point at the office where employees can leave good quality items, and we plan to get involved in plenty of volunteering and other fun initiatives. As it's the first year we've selected a charity of the year, I think it would be great if we could raise at least £1,000.
"We're really proud to be supporting a local charity, and we cannot wait to get our hands dirty!"
Find out more about our business news or follow us on Twitter and Linkedin for regular updates on industry insight, opportunities, behind-the-scenes content and more.

Don't forget; you can also pick up the phone and contact us today for more information.
Let's make possibilities happen